For a cool and slightly maritime look – our wonderful shirt "Lisbon"
An exquisite twill fabric, matt blue and white stripes. Made of 100% cotton.
Strolling down the beach promenade, or in a bar for the blue hour, or going out with friends in the evening – with this shirt you always look cool.
But also a real eye-catcher in the office and home office.
High-quality fabric, carefully crafted, interesting design details
Our Lisbon shirt is made from a very interesting twill fabric, out of 100% cotton, and thus especially breathable.
The fabric inside the collar and cuffs is in a slightly contrasting colour, which makes the shirt even more interesting.
The buttons are in a light blue, matching the shirts colours.
The Italian-inspired Kent collar shape is very modern – so you're always dressed great with or without a tie.
No front pocket – for a modern look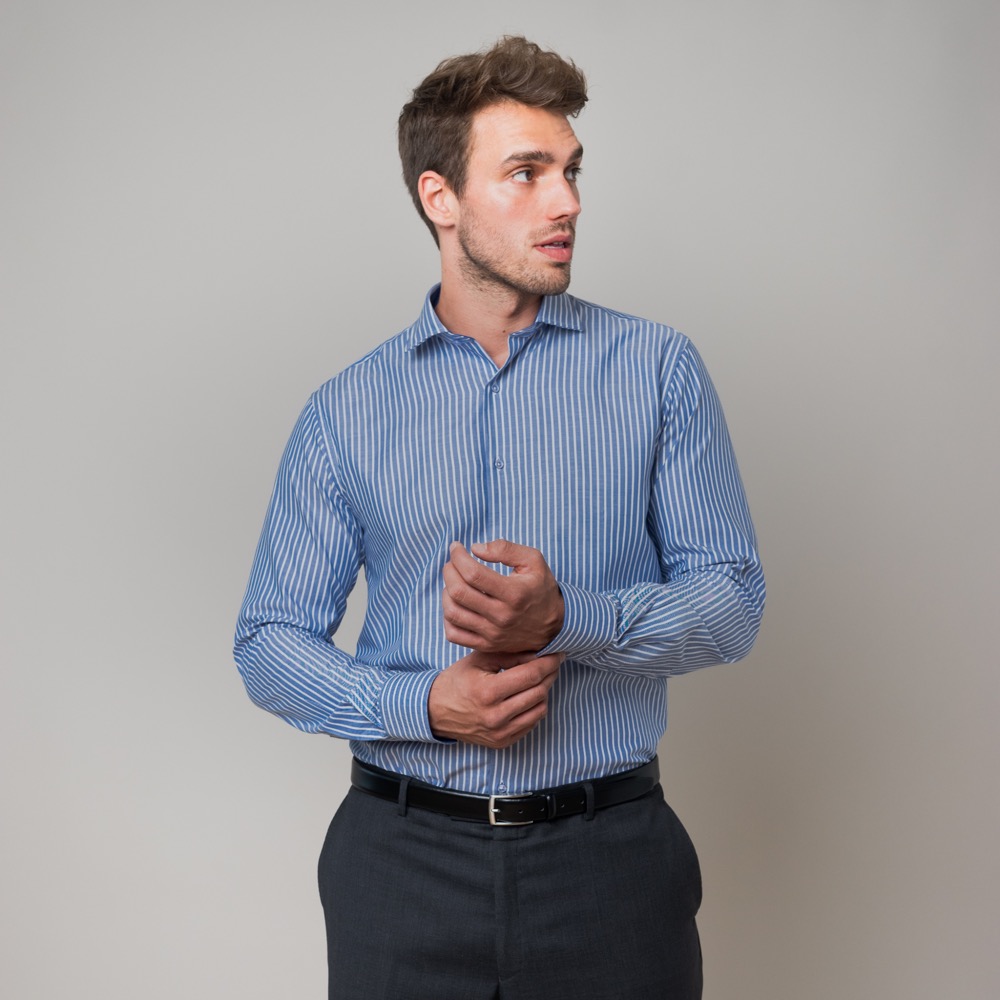 You are buying a high-quality product
We make sure that the seams are very close together so that the shirt keeps its shape for a long time.
The fabric has a thickness of 130 grams per square metre.
We only use high-quality natural fibre fabrics that are carefully processed, and produce in Europe in compliance with all European labour standards.
Our fabric is tested and certified for harmful substances according to the strict "OEKO-TEX® – STANDARD 100 by OEKO-TEX" procedure.
Designed for tall men, available in Modern Fit
Our "Lisbon" shirt is currently only available in Modern Fit
Modern Fit is slightly fitted, and has a little more air around the waist – for tall men with a slim-to-normal figure.
Especially designed for tall men: longer than normal at the back and front, and with 72 cm sleeves.
Size guide SLIM FIT
| Collar size | 39 | 40 | 41 | 42 | 43 |
| --- | --- | --- | --- | --- | --- |
| Chest | 108 cm | 111 cm | 115 cm | 118 cm | 121 cm |
| Waist | 100 cm | 103 cm | 107 cm | 110 cm | 113 cm |
| Overall length (front) | 85 cm | 85 cm | 85 cm | 85 cm | 86 cm |
| Overall length (back) | 95 cm | 95 cm | 95 cm | 95 cm | 96 cm |
| sleeve length | 72 cm | 72 cm | 72 cm | 72 cm | 72 cm |
Size guide MODERN FIT
| Collar size | 41 | 42 | 43 | 44 | 45 | 46 |
| --- | --- | --- | --- | --- | --- | --- |
| Chest | 122 cm | 125 cm | 127 cm | 129 cm | 131 cm | 133 cm |
| Waist | 118 cm | 121 cm | 123 cm | 125 cm | 127 cm | 129 cm |
| Overall length (front) | 85 cm | 85 cm | 86 cm | 86 cm | 87 cm | 87 cm |
| Overall length (back) | 95 cm | 95 cm | 96 cm | 96 cm | 97 cm | 97 cm |
| sleeve length | 72 cm | 72 cm | 72 cm | 72 cm | 72 cm | 72 cm |
RIESENHEMD Hamburg is a young family business that exclusively produces shirts for tall men
What makes our shirts stand out:
We only use high-quality fabrics and pay attention to careful workmanship and interesting design details
The shirts are designed exclusively for tall men over 1.90 metres – they are cut longer at the front and back, and have extra-long sleeves (72 cm).
Our shirts are designed in Hamburg, Germany, and made in Spain, using only high-quality fabrics from Europe
Thank you for your interest in our shirts – the team of RIESENHEMD Hamburg
Shirts for tall men
Exquisite fabrics & with extra long sleeves (72 cm)