You are very tall, normal-slim and want a well-fitting business shirt made of a great fabric with extra long sleeves? Then you've come to the right place! All business shirts with extra long sleeves 72 cm and overall longer cut
Our office shirts are cut extra long to fit tall men. The business shirts are 85 cm long on the front and even 95 cm on the back, so that the shirt still stays properly in the suit trousers even after a long day at the office. In addition, all shirts have extra long sleeves of 72 cm. We offer two fits – Modern Fit Long (slightly fitted, for normal slim tall men) and Slim Fit Long (more fitted, for slim tall men).
White business shirts extra long + 72 arm length
Our white office shirts in overlength "London" and "Paris" are made of a fine Fil-a-Fil fabric. A very elegant fabric with that certain something, which is also easy to iron. The smooth button placket, also called French button placket, the beautiful Kent collar and the great fabric guarantee an elegant appearance with the shirt. Our "Paris" shirt also has a turn-up cuff for those particularly festive occasions….
Our "Athens" shirt, on the other hand, is a little more casual, but can also be worn very well in the office. The contrasting colours on the inside of the collar and cuffs make the shirt a subtle eye-catcher. "Athens" combines well with a dark blue suit or jacket.
Light blue business shirts extra long + 72 arm length
We also offer three great blue office shirts in overlength, the models "Zurich", "Rome" and "Brussels". Our blue work shirt "Zurich" is a real eye-catcher in the office with its herringbone twill fabric and a modern shark collar and can be worn very well with thicker tie knots.
The "Rome" shirt with its fine blue and white striped oxford fabric, smooth button placket and turn-up cuff guarantees an elegant appearance in the office and at important business meetings.
Our Brussels shirt is also particularly elegant – made from a radiant light blue full-twist fabric (2-ply). It always cuts a particularly fine figure in the office.
All our business shirts are of course equally suitable for the home office.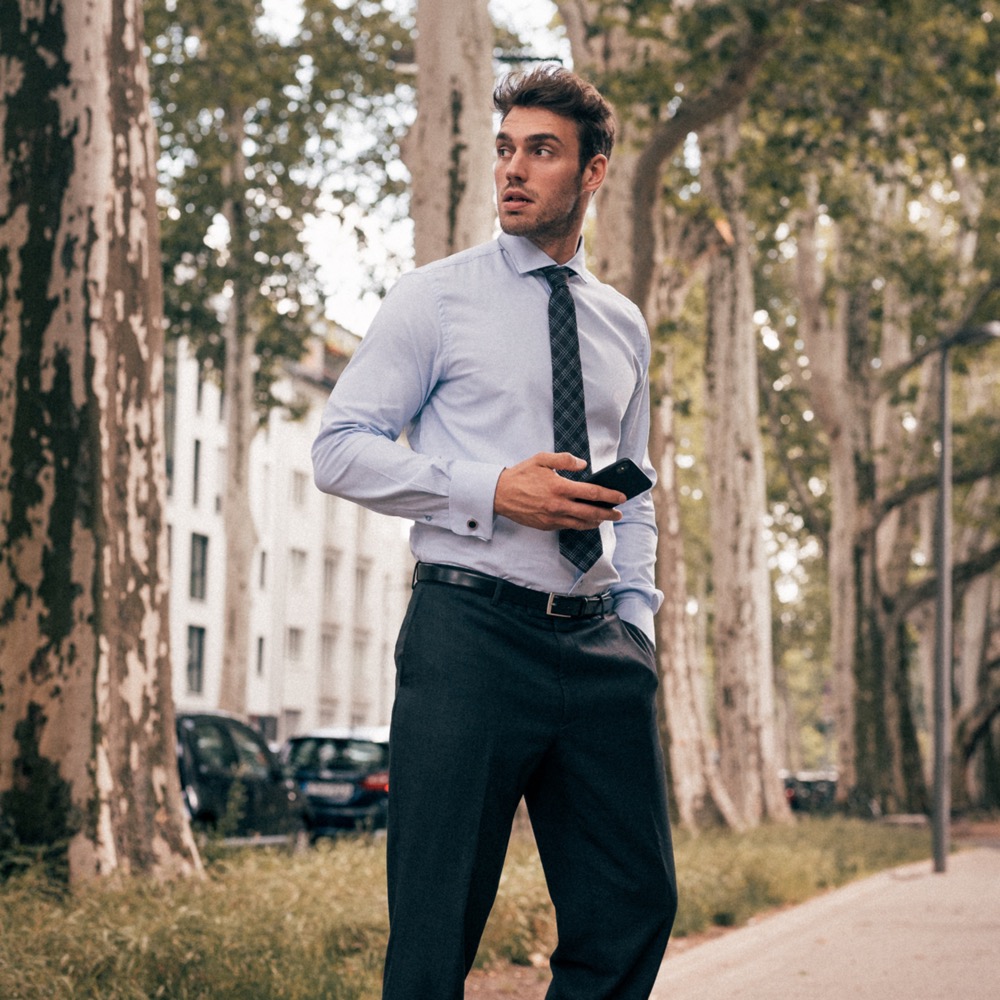 More business shirts with extra long sleeves and 72 cm arm length
A little less classic, but always very casual to use in the office are our shirts "Oslo", "Vienna", "Berlin", "Stockholm" and "Prague" – great shirts in extra length for the modern office person, and perfect for the home office too. Of course, they also have super extra-long sleeves of 72 cm.
---